BRF is leading innovation in molecular imaging and research in Louisiana through a new $14.2 million, 20,000 sq. ft. Center for Molecular Imaging and Therapy (CMIT).
To secure the CMIT project, the State of Louisiana offered BRF a competitive incentive package that consists of a $1 million performance-based grant. The grant will offset the costs of medical equipment and building expenses associated with the project.
A demolition ceremony involving local and state government officials at the new site at the corner of Kings Highway and Mansfield Road in Shreveport marked the groundbreaking. The new facility will house radiopharmaceutical production equipment and operations, patient imaging services, and a clinical and translational research program.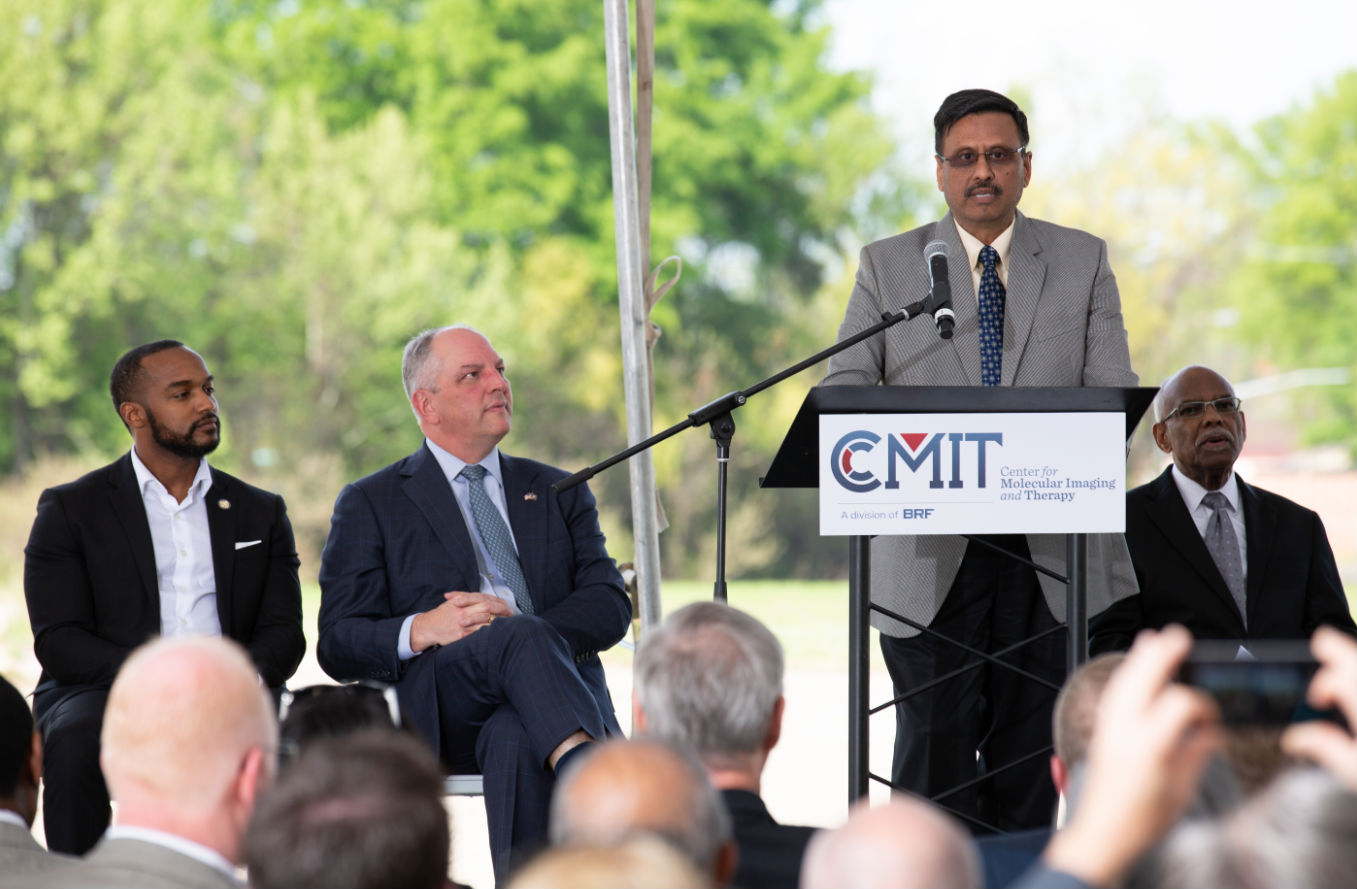 CMIT Executive Director Pradeep K. Garg, Ph.D. speaks at the CMIT groundbreaking and demolition event.
CMIT is led by Executive Director Pradeep K. Garg, Ph.D., who has an extensive background in molecular imaging research and in developing disease specific novel radiopharmaceuticals, having led programs at Yale, Wake Forest and Duke universities.
The program Dr. Garg will lead is the evolution of BRF's PET Imaging Center, the first molecular imaging scanning and radiopharmaceutical production facility in the state, which opened in 1995. The center was one of the nation's first full-service, non-academic centers and grew into one of the most active centers in the South, serving over 46,000 patients.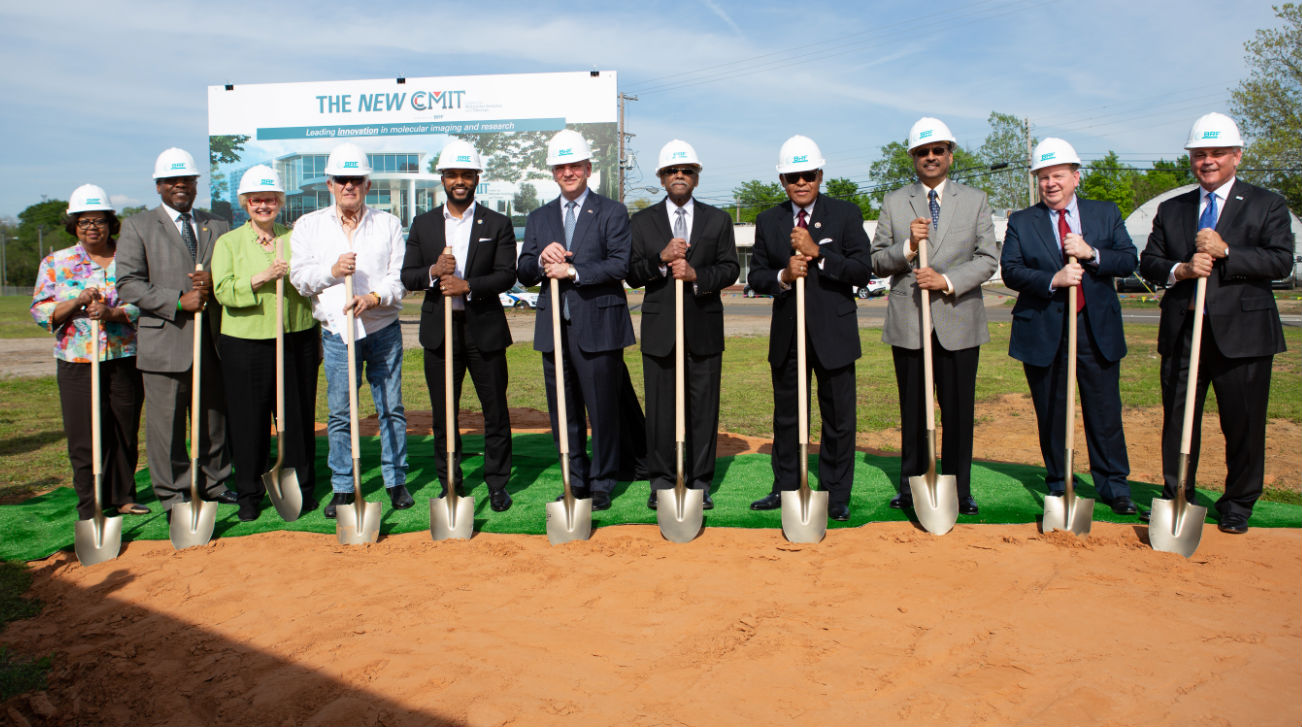 Members of the BRF Board pose with Governor John Bel Edwards and Shreveport Mayor Adrian Perkins at the CMIT event.
"BRF has been an innovator and will continue to be a leader in the field of molecular imaging and research," said Gov. John Bel Edwards. "Access to this technology is vitally important for Louisiana and this region. This expanded program will increase research collaboration opportunities for our universities and the LSU School of Medicine in Shreveport, ensure access to cutting-edge diagnostic and therapeutic care for patients, and extend investment in the biomedical and healthcare economies in the Shreveport Healthcare and Development Corridor."
With new production equipment and expanded capabilities, CMIT will grow its catalog of novel radiopharmaceuticals to include applications in cardiovascular disease, prostate cancer, Alzheimer's disease and related dementias, hyperinsulinism, and pancreatic and other cancers.
"Molecular imaging is an invaluable tool that improves disease diagnosis as well as management and treatment of such diseases as cancer, dementias and heart disease," said Dr. Garg. "Targeted radiopharmaceuticals produced by CMIT will help diagnose diseases more precisely and accurately and will help physicians in choosing more effective treatment options and guide better outcomes for patients."
According to a 2014 study by Tripp Umbach, by 2020, there will be roughly 30,000 direct and indirect employees working in the Shreveport Healthcare and Development Corridor, with an estimated economic impact of $4.9 billion per year.
"I am excited about the Center for Molecular Imaging and Therapy. This new program will have a profound impact on our area," said Shreveport Mayor Adrian Perkins. "The medical community is a critical part of Northwest Louisiana's economy. This investment in the Shreveport Healthcare and Development Corridor brings both jobs and resources to Shreveport—and it brings them to a resource-deprived area. It grows our economy and improves healthcare in our city. It is a win for Shreveport."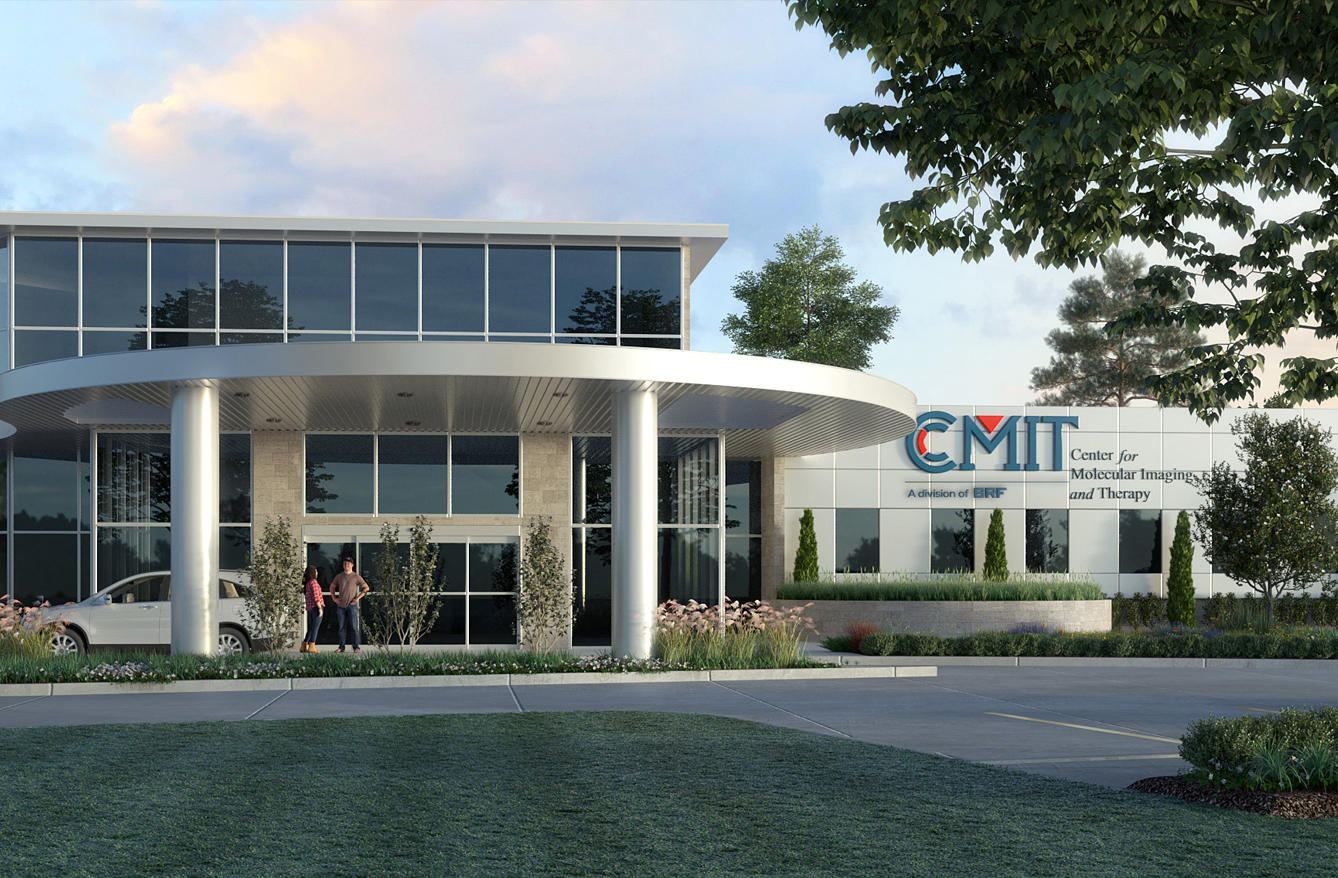 Construction of this new facility adjacent to BRF's headquarters in the InterTech Science Park will consolidate CMIT operations under one roof on the Shreveport Healthcare and Development Corridor.
The world-wide market for novel diagnostic and therapeutic radiopharmaceuticals is expected to reach $7.4 billion by 2024. The expanded program at the new CMIT is expected to achieve the following results:
More opportunities for radiopharmaceutical and radiochemistry research collaboration, pre-clinical basic science research, and involvement in the drug discovery and development process, which can attract and retain talent
Enhanced research collaborations with higher education institutions, including LSU Health Sciences Center Shreveport
Expanded clinical trial opportunities for patients, bringing cutting edge diagnostic and therapeutic options to patients
Improved access for referring physicians in North Louisiana, East Texas and South Arkansas
Earlier diagnosis and modified treatments for diseases affecting those patients
Addition of approx. 25 new skilled jobs with good salaries
Pipeline of intellectual property and novel radiopharmaceutical patents for healthcare startups
Increased clinical, research and commercialization impact for the state
To date, $9.4 million of the $14.2 million expansion project has been raised by BRF, the BRF board and leadership. The remaining funds will be raised from private and public sources.
"CMIT and BRF are committed to pioneering biomedical research innovation in our region and state," said BRF President and CEO John F. George Jr., M.D. "Diversifying and growing our economy is BRF's mission, and we believe this initiative will be a transformative piece of that mission. We appreciate the support of the Governor and Louisiana Economic Development for this important project."
About CMIT
An initiative of BRF, CMIT is a research organization in Shreveport devoted to developing novel radiopharmaceuticals which can lead to improved diagnosis and therapy for a wide range of diseases. CMIT actively performs radiopharmaceutical and translational research as well as clinical imaging.