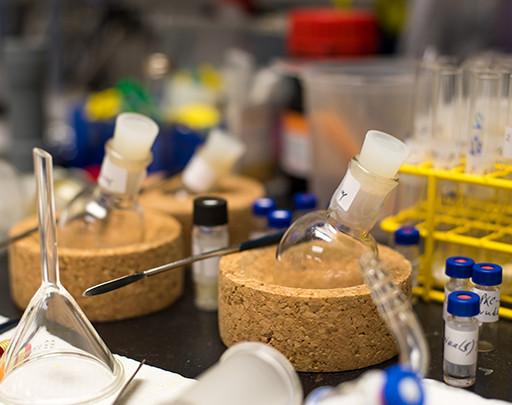 Our Goal
The Center for Molecular Imaging and Therapy (CMIT) was established in 2013 as a comprehensive facility to leverage the strengths of the existing PET Imaging Center and Southern Isotopes into a research organization focusing on molecular imaging and therapy. CMIT develops novel radiopharmaceuticals for improved imaging and therapy while working with researchers, clinicians and pharmaceutical companies.
Our Mission
The Center for Molecular Imaging and Therapy (CMIT) is a research organization devoted to developing novel radiopharmaceuticals which can lead to improved diagnosis and therapy for a wide range of diseases. CMIT actively performs radiopharmaceutical and translational research as well as clinical imaging. CMIT works with various collaborators including physicians, researchers, scientists, academic institutions and pharmaceutical companies to develop, test, validate and translate innovative new technologies and ideas. We help researchers to confirm and improve their products, scientists to answer fundamental scientific questions, physicians to diagnose, assess, and evaluate disease and therapy, and patients to battle life-threatening diseases through our research and clinical efforts.
CMIT efforts lead to basic science breakthroughs, earlier diagnoses, therapy evaluations, and new and innovative ways to treat disease. Our team is a leader in the field of molecular imaging and therapy because of its dedication to understanding the way the human body works. By searching for new methods to treat, prevent or even cure certain illnesses, CMIT aims to build on current knowledge to boost the quality of healthcare for the future.
Who We Are
CMIT's group of clinicians and scientists are focused on discovering new methods and better tools to help provide individualized care and treatment options to our patients. At the Center for Molecular Imaging and Therapy (CMIT), we're defining the future every day.
CMIT encompasses a wide-range of talents, skills, and resources in the science of molecular imaging and therapy. We combine research, radiopharmaceutical manufacturing and molecular imaging and therapy into a highly capable organization.
Researchers
Dr. Stephen Lokitz – Interim Director
Dr. Rachid Nazih – Site Manager/Radiochemist
Our History
The Center for Molecular Imaging and Therapy is the latest step in the BRF's long involvement with PET imaging, radiopharmaceutical manufacturing and distribution. Conceived when PET imaging was not a standard of care medical procedure, the program has evolved from a center focused on learning how to implement clinical PET imaging and supporting the safety net healthcare programs at local hospitals to the cutting-edge research organization it is today.
BRF opened the PET Imaging Center in 1995 as one of the first centers to combine imaging and radiopharmaceutical manufacturing in the southern United States. The original investment included a single cyclotron and PET camera. The hard work of many physicians, physicists, radiochemists and technicians allowed BRF PET operations to grow rapidly into one of the busiest facilities in the region. Growth has led to multiple PET/CT scanners in Shreveport with radiopharmaceutical manufacturing facilities in Shreveport and Baton Rouge. Since its inception, the center has performed more than 50,000 clinical PET and PET/CT imaging procedures and provided more than $30 million in free care to patients.
The BRF PET operations became CMIT in 2013 with the purpose of becoming a world-class research organization focusing on molecular imaging and therapy. This new mission has resulted in the recruitment of multiple world-renown expert scientists and a reinvestment in the critical technology necessary to succeed in the research arena. CMIT now performs cutting-edge de novo research, participates in clinical trials for a variety of diseases and indications, and offers CMIT's unique blend of scientific expertise and resources to any interested organization while continuing to provide clinical PET imaging and distributing radiopharmaceuticals.
What We Do
CMIT encompasses a wide range of talents, skills and dedication to the science of molecular imaging. CMIT personnel have expertise in a variety of disciplines. Our research team engages in chemistry, radiopharmaceutical, translational and clinical research. These research activities advance our field from basic science to clinical practice. The CMIT clinical team provides valuable service and data to doctors and patients.
CMIT provides radiopharmaceuticals to imaging centers throughout the region and provides direct patient care for thousands of patients each year. In addition, CMIT engages in cutting-edge clinical trials which offers access to experimental procedures to area patients.
CMIT collaborates with researchers from other organizations to conduct preclinical, translational and clinical research in order to further discovery of new knowledge. We develop new chemistry, radio-labeling techniques, biologic target designs, and imaging procedures to answer functional questions and to improve healthcare.